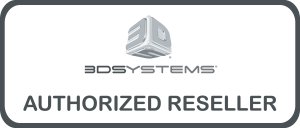 Shape Fidelity is an authorized reseller of 3D Systems / Geomagic software products for 3D scan processing, inspection, reverse engineering, and automation.  We have been using Geomagic (and Rapidform) software for over 15 years.  Please contact us if you are interested in learning more about these products, scheduling a demonstration, or would like to discuss training options.
Geomagic Control
Geomagic Control (formerly Geomagic Qualify) is a comprehensive inspection automation platform for streamlining in-line and repetitive inspection processes that use 3D scanners and other portable metrology devices. With this feature-rich software platform, you can easily program CAD comparisons, GD&T and go/no-go operations to be performed automatically on any type of part.
Extensive scripting and macros allow for automation of entire inspection routines as well as the ability to control scanners, robots, and other devices.
Geomagic Design Direct
Geomagic Design Direct (formerly Geomagic Spark) combines powerful reverse engineering tools with an easy-to-use, comprehensive direct modeling CAD platform.
With an industry-leading direct-modeling platform from SpaceClaim®,
Geomagic Design Direct is a complete design solution. In one
application, you get scan data processing, direct modeling, assemblies,
drawings and PMI. Not enough? You have access to third-party
SpaceClaim add-ins as well.
Geomagic Design X
Geomagic Design X (formerly Rapidform XOR) is a complete 3D scan processing system, capable of working with data from any 3D scanner.  It provides point cloud and mesh processing functions, enabling even complex or incomplete scans to be turned into manufacturable designs.
The key feature of Design X is its CAD modeling tools for constructing parametric CAD geometry using the scan data as a reference.  In addition to IGES and STEP export, native parametric models can be created for SolidWorks, Siemens NX, Autodesk Inventor, SolidEdge, Creo and Pro/E.
Geomagic Studio
Geomagic Studio® is the complete toolbox for transforming 3D scanned data into highly accurate surface, polygon and CAD surfaces. For manufacturers of every type, Geomagic Studio provides the industry's most powerful point cloud editing, mesh editing and advanced surfacing functions in an intelligent, easy-to-use application. Geomagic Studio's precise 3D data processing functions, in tandem with its automated tools, enable users to produce the highest quality models in significantly less time and reduce costly man-hours. For reverse engineering, product designs, rapid prototyping, analysis and
CAD export, Geomagic Studio is the ultimate 3D creation tool.
Geomagic Verify
Geomagic Verify is powerful, easy first article inspection software for both contact and non-contact 3D measurement devices. It lets you measure and compare parts to CAD models to fi nd and fi x manufacturing defects before they become major problems.
It's capabilities range from comprehensive first-article inspection methods to automated inspection planning based on imported PMI from CAD.
Training
We are happy to provide on-site training for Geomagic software.  Please contact to discuss your specific needs.